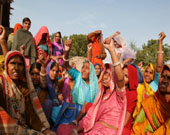 Here is the total 1 blogs in . Kindly select the category to read the full details. To post blogs for free Click Here
Showing 0 - 1 of 1 result(s) found.
HEALTH AWARENESS - FOR RURAL VILLAGE WOMEN
2016-07-19 15:24:42
The majority of rural deaths, which are preventable, are due to infections and communicable, parasitic and respiratory diseases which can be prevented by creating proper awareness. We believe that awareness on health and environment cleanliness will ...
Read in detail
Displaying 0 - 1 of 1 result(s)
---