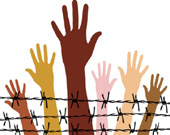 Here is the total 22 news in across different countries, states and cities. Kindly select the category to get the full details. To post news for free Click Here
Showing 10 - 20 of 22 result(s) found.
NGO submits memorandum
2016-03-01 21:12:25
An NGO, International Human Rights Council, submitted a memorandum to the Deputy Commissioner demanding that a government medical institution on the lines of AIIMS in Delhi and the PGI in Chandigarh should be built in the city as well. ?Private hosp...
Read in detail
Reclaiming The PIL
2016-02-10 19:26:28
The tough stance adopted by a Supreme Court bench, headed by Chief Justice T.S. Thakur, while hearing a public interest litigation (PIL) challenging the allocation of 4G spectrum to Reliance Jio in January, is highly welcome. The PIL had been filed b...
Read in detail
Displaying 10 - 20 of 22 result(s)
---