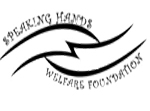 Nothing is Impossible
Adopting this powerful adage as the motto, Speaking Hands Welfare Foundation (SHWF) was established in the year 2012 by a group of social workers working in remote areas of Rajpura, Punjab with the focus to contribute towards the development and betterment of the DEAF community. The basic programmes included generation of awareness for the need to empower deaf persons with a scientific outlook and also providing facilities to uplift their living standards. A formal group with the requisite recognition became imperative to undertake development activities in the region in a systematic manner which consequently led to the establishment of the foundation.

Our foundation strives to empower deaf persons and enable them to lead successful lives as active participants in the socio-economic process. We express a deep sense of gratitude towards the young deaf and dedicated workers of the group who act as the main pillars behind the success the different activities of the society.
not available