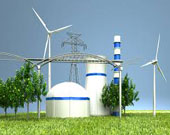 Here is the total 1 blogs in Biotechnology . Kindly select the category to read the full details. To post blogs for free Click Here
Showing 0 - 1 of 1 result(s) found.
Several Questions About Embryonic Stem Cells
2015-09-07 00:48:11
1. What are embryonic stem cells? Embryonic stem cells are cells derived from embryos. Most embryonic stem cells are derived from embryos that develop from eggs that have been fertilized in an in vitro fertilization clinic and then donated for rese...
Read in detail
Displaying 0 - 1 of 1 result(s)
---