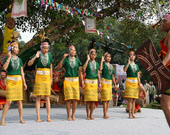 Here is the total 1 blogs in Tribal Welfare . Kindly select the category to read the full details. To post blogs for free Click Here
Showing 0 - 1 of 1 result(s) found.
Taking steps to safeguard trade interests of tribals
2018-06-04 05:26:52
Sukhmati wakes up early, because it is Friday, a weekly market day at Lohandiguda in Bastar. The market place is 10 kms from her village. She has readied a basket full of tamarind. The crop was from the tree in her farmstead. Her husband felled the p...
Read in detail
Displaying 0 - 1 of 1 result(s)
---