Here is the total 2 funds for NGO in Aruba for different activities. Kindly select the category to get the fund details.
Showing 0 - 2 of 2 result(s) found.

Mohamed bin Zayed Species Conservation Fund
Deadline: 2018-06-30
About the Species Conservation Fund The Fund has been established to provide targeted grants to ind...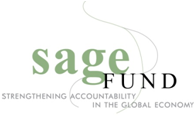 2018 Request for Proposals Enforcing Remedies in Corporate Accountability Cases- Sage Fund
Deadline: 2018-05-11
The SAGE Fund invites two-page concept notes from organizations working with affected communities to...
Displaying 0 - 2 of 2 result(s)
---