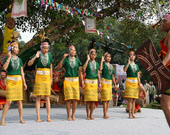 Here is the total 2 funds in funds in Tribal Welfare in different countries, states and cities. Kindly select the category to get the fund details.
Showing 0 - 2 of 2 result(s) found.
BHEL CSR Grant
0000-00-00
Policy Statement BHEL, a global engineering enterprise providing solutions for a better tomorrow, i...
Read in detail
Displaying 0 - 2 of 2 result(s)
---