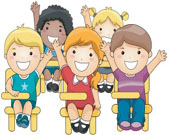 Here is the total 62 news in across different countries, states and cities. Kindly select the category to get the full details. To post news for free Click Here
Showing 0 - 30 of 62 result(s) found.
The deafening silence of child abuse
2016-08-17 06:32:03
Stories of abuse are strange. Sometimes they are blazing headlines ? ?18 month old raped in Kolkata?, ?Teenagers rape toddler in Delhi ? but mostly, they silently wrap up inside themselves. This is the story of some of those untold stories, the ones ...
Read in detail
NGO to teach destitute kids with mobile schools
2016-08-05 06:13:22
If a child cannot come to the school, let's take the school to the child.' This is the motto of NGO August Kranti that is planning to start a new project?a school on wheels?which will be called August Kranti mobile school. This will be aimed at educ...
Read in detail
SSB rescues 59 children from traffickers in Bihar
2016-07-21 06:32:53
July 17: At least 59 children have been rescued and 13 traffickers arrested by the border guarding force Sashastra Seema Bal (SSB) from Raxaul and Muzaffarpur railway stations in Bihar. The children were freed late yesterday when the SSB launched a s...
Read in detail
NGO helps three children to reunite with family
2016-07-01 07:08:26
Three children were reunited with their maternal uncle in Dohad, about 160 kms from here, with the efforts of an NGO, after they fled from their house to escape assault from their alcoholic father. "Three children boarded the Ratlam-bound MEMU train...
Read in detail
Hardlook: Cradle of life in Delhi's adoption agencies
2016-06-27 11:03:04
CCTV shows two persons, suspected to be a couple, abandoning a newborn outside Govindpuri Metro station in southeast Delhi. CISF officials on duty hear her cries and spot her lying behind an advertisement banner. She is brought to Palna, a home for a...
Read in detail
Fifth column: No more Sanskriti schools
2016-06-13 07:20:12
If you have read this column more than once, you would have noticed that I despise feudal socialism. In my book, this is any attempt on the part of our 'socialist' officials (elected or otherwise) to behave like our colonial masters once did. In Dyna...
Read in detail
NGO pledges to free Nashik of child beggars
2016-06-07 07:58:13
NGO Childline will launch a programme on Tuesday to free the city of child beggars by sensitising people and putting up posters at 100 places across Nashik, mostly at traffic signals. The NGO will also discourage people from giving alms to child beg...
Read in detail
NGO gives wings to govt school kids' dreams
2016-06-07 07:53:52
Since childhood, Shekar , 15, nursed the dream of becoming a chef. But he knew with his modest means, it was going to be far from easy. Son of a daily-wage worker and student of a government school in Adugodi, Shekar felt helpless when he saw his fat...
Read in detail
Maharashtra clamps down on sub-par children's homes
2016-06-06 05:04:10
After a recent departmental survey highlighted the failure of most NGOs on maintaining basic standards in children's homes, the women and child development department is working on a new policy to regulate government grants given to such homes. As p...
Read in detail
No. of child beggars down by 50%: NGO
2016-05-24 05:02:15
The streets of Nashik have seen a welcome change — a considerable decline in the number of child beggars. Childline, a non-governmental organisation (NGO) working for children, has observed the decline in the number of the child beggars particularly...
Read in detail
Infant found in bus, NGO gets 20 adoption calls
2016-05-23 07:09:39
The driver and conductor of a BMTC bus were in for a shock on Sunday morning when they found a three-month-old girl in the driver's seat in Majestic bus stand. The infant wrapped in a bed sheet is believed to have been abandoned by her parents. The ...
Read in detail
Displaying 0 - 30 of 62 result(s)
---