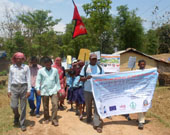 Here is the total 7 news in across different countries, states and cities. Kindly select the category to get the full details. To post news for free Click Here
Showing 0 - 7 of 7 result(s) found.
NGO alleges theft of cows from Daman
2016-08-04 23:22:56
Activists of Gau Raksha Manch, Daman, a non-government organization (NGO), have alleged large-scale cattle-rustling in the Union territory of Daman by thieves belonging to Gujarat and Maharashtra. The thieves had injected two cows with some medicine ...
Read in detail
Gujarat Dalit protests: Three bastis, one united voice
2016-07-21 23:46:23
WHEN Girish Parmar, a Dalit businessman from Ahmedabad, approached a real estate developer to purchase a house in Vastral, an area dominated by Patidars, the first question he faced was this: ?Tell me your caste.? ?When I told him that I am a Dalit,...
Read in detail
Beggars, ragpickers to manage public toilets in Delhi
2016-02-03 23:26:00
New Delhi, Jan 10: Beggars and ragpickers may soon manage toilet complexes in the national capital, with the NDMC planning to launch a novel initiative for their empowerment. "Under the 'Atm Nirbhar' (self-dependent) scheme, the New Delhi Municipal C...
Read in detail
National CSR Award
0000-00-00 00:00:00
About National CSR Awards Ministry of Corporate Affairs has instituted National CSR Awards to recognize corporate initiatives in the area of corporate social responsibility (CSR) to achieve inclusive growth, and inclusive and sustainable development...
Read in detail
Displaying 0 - 7 of 7 result(s)
---