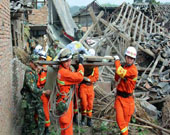 Here is the total 9 news in across different countries, states and cities. Kindly select the category to get the full details. To post news for free Click Here
Showing 0 - 9 of 9 result(s) found.
NGO in Chennai to aid of Vardah-hit Pulicat fisherfolk
2017-01-19 03:38:49
CHENNAI: After cyclone Vardah raged through the city on December 12, 2016, volunteers of Rapid Response, an NGO, were among the first to swing into action. A day later, they were out on the streets distributing food packets and relief kits. Almost a ...
Read in detail
Locals, NGO join hands for Mahad bridge rescue op
2016-08-05 23:21:23
On a day when the Savitri river remained its ferocious best, the messages that travelled across its banks were prompt. Each time something even remotely resembling a human body was spotted, word was passed on to villages downstream, where crowds stoo...
Read in detail
Noble cleanup cause
2016-05-06 23:23:06
In September 2015, the people of Moti Mohalla village on Srinagar's iconic Dal Lake, were asked something they had never been asked before. What changes would they like to see around them? The majority replied unhesitatingly that the dirt and weeds s...
Read in detail
Yenepoya signs pact with Argentine NGO
2016-05-05 23:19:19
Yenepoya University will sign a memorandum of understanding with a forensic anthropology unit from Argentina at Yenepoya Medical College on Thursday. The anthropology unit, Equipo Argentino de Antropologia Forense (Argentine Forensic Anthropology Tea...
Read in detail
NGO pitches in with relief aid 3 drought-hit states
2016-04-25 23:37:09
Mumbai, April 22: A non-governmental organisation (NGO) today said it has pitched in with relief response in 15 districts in the drought-hit states across Maharashtra, Uttar Pradesh and Madhya Pradesh. "World Vision India programmes in the affected a...
Read in detail
Nepal asks foreign rescue workers to return home
2015-08-19 04:25:06
Evacuated American journalists and Nepalese people from Dhunche onboard an India Air Force (IAF) helicopter on their way to Kathmandu Nepal government today asked hundreds of foreign rescue workers to leave the quake-hit country as immediate relief ...
Read in detail
J&K flood victims caught in govt-NGO politics
2015-05-06 22:31:08
Even funds for disaster relief being impeded when these come from international bodies Late last year, Caritas India, a venerable and respected voluntary organisation that has responded with alacrity to one Indian humanitarian crisis after another, ...
Read in detail
NGO initiates long-term rehabilitation scheme
0000-00-00 00:00:00
Kochi: Even as the government agencies have shifted focus from rescue to rehabilitation of flood victims, few NGOs have initiated decentralised rehabilitation programmes in partnership with local bodies. The Chalakudy-based Western Ghats Hornbill Fo...
Read in detail
Displaying 0 - 9 of 9 result(s)
---