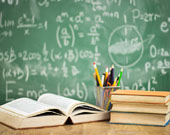 Here is the total 52 news in across different countries, states and cities. Kindly select the category to get the full details. To post news for free Click Here
Showing 0 - 10 of 52 result(s) found.
Kindergarten in govt. schools likely
2018-05-31 07:15:36
The State government is "considering" the possibility of introducing kindergarten classes in State-run schools, School Education Minister K.A. Sengottaiyan informed the Assembly on Wednesday. Responding to AIADMK MLA S. Semmalai (Mettur),...
Read in detail
Pondicherry looks to Bihar for lessons
2018-05-29 04:30:51
Patna: A team of three officials from Pondicherry are on a visit to Bihar to get a first-hand account of the techniques being used here to deliver quality education. Led by state project director of education S. Pal, the three-member team from ...
Read in detail
Yogi govt introduces NCERT books in madarsas
2018-05-24 22:43:14
The Yogi Adityanath government has approved the introduction of National Council of Educational Research and Training (NCERT) books in English, Hindi and Urdu in Madarsa Board. The seminaries in Uttar Pradesh have also been asked to follow the NCERT ...
Read in detail
Displaying 0 - 10 of 52 result(s)
---