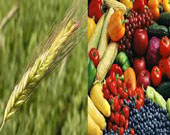 Here is the total 13 news in across different countries, states and cities. Kindly select the category to get the full details. To post news for free Click Here
Showing 0 - 10 of 13 result(s) found.
Women farmers want millets under NREGA; seek MSP
2018-06-03 22:56:59
HYDERABAD, JUNE 1 The Millet Sisters, a group of women farmers and NGOs, have called for inclusion of millet farming under NREGA (National Rural Job Guarantee scheme) for women employment. Millets should also covered under MSP (Minimum Support Pric...
Read in detail
Agri-market reforms: The direct selling challenge
2016-07-21 00:07:13
THE Maharashtra government?s recent move to ?de-list? fruits and vegetables (F&V) from the Agricultural Produce Marketing Committee?s (APMC?s) schedule has generated lot of hope, but questions remain over how it would actually help the farmer ? the o...
Read in detail
Akshaya Patra to open fifth centre in Rajasthan
2016-07-19 00:02:34
The Akshaya Patra Foundation signed an agreement with the Government of Rajasthan to implement Mid-Day Meal Scheme in Ajmer?fifth centre in the state for the Foundation. In 2004, Akshaya Patra began serving mid-day meals in Jaipur and the programme i...
Read in detail
A new PPP model for smallholder agriculture
2016-05-27 00:41:48
While a lot of media attention has focused on rural distress arising from back-to-back droughts, even linking these to policy distortions encouraging water-guzzling cropping practices, there hasn?t been much reporting on certain basic changes in Indi...
Read in detail
Displaying 0 - 10 of 13 result(s)
---