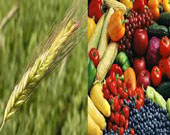 Here is the total 12 news in across different countries, states and cities. Kindly select the category to get the full details. To post news for free Click Here
Showing 0 - 12 of 12 result(s) found.
Agri-market reforms: The direct selling challenge
2016-07-21 07:07:13
THE Maharashtra government?s recent move to ?de-list? fruits and vegetables (F&V) from the Agricultural Produce Marketing Committee?s (APMC?s) schedule has generated lot of hope, but questions remain over how it would actually help the farmer ? the o...
Read in detail
BJP-backed outfit to conduct cow census in West Bengal
2016-07-19 07:29:32
A BJP-backed outfit in West Bengal will conduct a census of cow population in the state in an attempt to raise awareness about how to protect them. From August 1, hundreds of volunteers of the Gau Raksha Committee, which has many BJP members, will f...
Read in detail
Akshaya Patra to open fifth centre in Rajasthan
2016-07-19 07:02:34
The Akshaya Patra Foundation signed an agreement with the Government of Rajasthan to implement Mid-Day Meal Scheme in Ajmer?fifth centre in the state for the Foundation. In 2004, Akshaya Patra began serving mid-day meals in Jaipur and the programme i...
Read in detail
A new PPP model for smallholder agriculture
2016-05-27 07:41:48
While a lot of media attention has focused on rural distress arising from back-to-back droughts, even linking these to policy distortions encouraging water-guzzling cropping practices, there hasn't been much reporting on certain basic changes in Indi...
Read in detail
Is agriculture a business?
2016-04-01 11:57:45
Agriculture is said to be India's largest private-sector enterprise, engaging nearly 119 million farmers ("cultivators") and another 144 million landless labourers, as per the 2011 Census. It is even considered the most respectable business, going by...
Read in detail
Delhi confidential: Bonding Over Food
2016-02-27 05:13:31
While most people, going by verbal spats on TV news debates, assume that MPs are at odds with those from rival parties, the reality has many more dimensions. Take, for instance, Speaker Sumitra Mahajan's lunch for floor leaders, chief whips and deput...
Read in detail
Decision on GM mustard deferred
2016-02-15 10:20:49
Amid unprecedented attention, protests by activists and a notice for contempt of Supreme Court orders, the environment ministry's Genetic Engineering Appraisal Committee (GEAC) deferred a decision on allowing commercial cropping of genetically modifi...
Read in detail
Displaying 0 - 12 of 12 result(s)
---