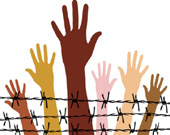 Here is the total 22 news in across different countries, states and cities. Kindly select the category to get the full details. To post news for free Click Here
Showing 0 - 10 of 22 result(s) found.
Trained officials can improve jail condition: NGO
2018-05-17 00:17:34
JAIPUR: A two-day training programme of the non-official visitors (NOV) to the jails ended at the Rajasthan police Academy on Wednesday. After visit to the jails the NOV informed the gathering on the problems they have witnessed during their visits t...
Read in detail
NGO alleges fake bills for PWD work
2017-01-19 03:46:36
NEW DELHI: Claiming to be a group of RTI activists, Road Anti-Corruption Organisation (RACO) alleged corruption in PWD on Tuesday. It accused a man, who it claims is a "relative" of chief minister Arvind Kejriwal, of having cheated PWD of a few crore...
Read in detail
Displaying 0 - 10 of 22 result(s)
---