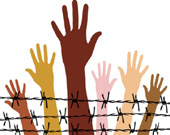 Here is the total 29 news in across different countries, states and cities. Kindly select the category to get the full details. To post news for free Click Here
Showing 0 - 29 of 29 result(s) found.
Trained officials can improve jail condition: NGO
2018-05-17 07:17:34
JAIPUR: A two-day training programme of the non-official visitors (NOV) to the jails ended at the Rajasthan police Academy on Wednesday. After visit to the jails the NOV informed the gathering on the problems they have witnessed during their visits t...
Read in detail
NGO alleges fake bills for PWD work
2017-01-19 11:46:36
NEW DELHI: Claiming to be a group of RTI activists, Road Anti-Corruption Organisation (RACO) alleged corruption in PWD on Tuesday. It accused a man, who it claims is a "relative" of chief minister Arvind Kejriwal, of having cheated PWD of a few crore...
Read in detail
NGO submits memorandum
2016-03-02 05:12:25
An NGO, International Human Rights Council, submitted a memorandum to the Deputy Commissioner demanding that a government medical institution on the lines of AIIMS in Delhi and the PGI in Chandigarh should be built in the city as well. "Private hosp...
Read in detail
Telangana BJP MLA booked for 'hate' speech
2016-02-25 11:48:40
Hyderabad, Feb 25: A BJP MLA in Telangana, T Raja Singh was booked for allegedly giving a "hate" speech against a particular community, police said on Thursday, Feb 25. A representative of a local NGO had lodged a complaint at Golconda Police Station...
Read in detail
Happily ever after
2016-02-15 12:45:00
When Santana Murmu first met Gobin Hemram, she was 13. He was a strapping young man of 20. He visited her house with a matchmaker. She liked him immediately, he was soft-spoken and good looking. "Like a hero from a Bengali film," says Murmu, giggling...
Read in detail
Reclaiming The PIL
2016-02-11 03:26:28
The tough stance adopted by a Supreme Court bench, headed by Chief Justice T.S. Thakur, while hearing a public interest litigation (PIL) challenging the allocation of 4G spectrum to Reliance Jio in January, is highly welcome. The PIL had been filed b...
Read in detail
85 major anti-Christian incidents in 2015, claims NGO
2016-02-03 13:12:36
NEW DELHI: Citing 85 major incidents of alleged persecution of Christians across 20 states last year, a report by a minority and human rights NGO says 2015 saw an unprecedented spike in "intolerance" against the community. The report says on an avera...
Read in detail
Displaying 0 - 29 of 29 result(s)
---