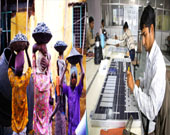 Here is the total 3 news in across different countries, states and cities. Kindly select the category to get the full details. To post news for free Click Here
Showing 0 - 3 of 3 result(s) found.
NGO, locals to crack down on child labour
2016-06-09 01:07:32
Locals from Calangute, along with the non-government organisation (NGO), Childline, will hold an awareness drive against the use of child labour in Calangute on Saturday. Based on information received from the public, they will also conduct raids at ...
Read in detail
Officials not releasing rescued workers: NGO
2016-02-07 22:04:27
Erode: An NGO, 'Vizhuthugal', has alleged that revenue department officials had refused to release 14 bonded labourers who were rescued from brick kilns at Andhiyur in Erode district this week. Director of the NGO M Thangavel alleged that the revenu...
Read in detail
Displaying 0 - 3 of 3 result(s)
---