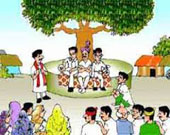 Here is the total 1 news in across different countries, states and cities. Kindly select the category to get the full details. To post news for free Click Here
Showing 0 - 1 of 1 result(s) found.
GIS technology push to Panchayati Raj
2018-06-07 03:01:15
Mohali: Under the outreach programme 'Empowering Panchayati Raj Institutions Spatially (EPRIS)' initiated by NRSC, Indian space Research Organization (Isro), department of space (DOS), a 1-day district level workshop was jointly organized...
Read in detail
Displaying 0 - 1 of 1 result(s)
---