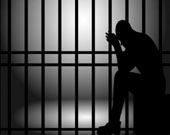 Here is the total 3 news in across different countries, states and cities. Kindly select the category to get the full details. To post news for free Click Here
Showing 0 - 3 of 3 result(s) found.
Female inmates in Goa jail deprived of legal aid: NCW
2018-05-31 08:09:10
The National Commission for Women (NCW), which visited the Goa Central Jail in Colvale on Wednesday, said it had found that the female inmates do not have sufficient access to legal aid. "There is a need for more efficient empanelled lawyers. Also t...
Read in detail
?Fear of punishment always better than punishment?
2016-02-10 20:47:54
MANOJ MORE: We want to begin by asking you about Sanjay Dutt. Is he getting preferential treatment? Let me categorically say no to it. Questions are being asked about special remission being granted to him. But I want to state here that he has been ...
Read in detail
Displaying 0 - 3 of 3 result(s)
---