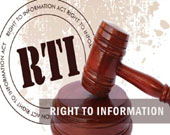 Here is the total 5 news in across different countries, states and cities. Kindly select the category to get the full details. To post news for free Click Here
Showing 0 - 5 of 5 result(s) found.
NGO alleges fake bills for PWD work
2017-01-19 11:46:36
NEW DELHI: Claiming to be a group of RTI activists, Road Anti-Corruption Organisation (RACO) alleged corruption in PWD on Tuesday. It accused a man, who it claims is a "relative" of chief minister Arvind Kejriwal, of having cheated PWD of a few crore...
Read in detail
Displaying 0 - 5 of 5 result(s)
---