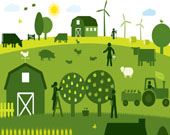 Here is the total 17 news in across different countries, states and cities. Kindly select the category to get the full details. To post news for free Click Here
Showing 0 - 17 of 17 result(s) found.
NGO rescues suicide victims' kin
2016-06-09 08:02:29
An NGO has come to the aid of 18 families of farmers who committed suicide last year in the district. The Maharashtra Institute of Technology Transfer for Rural Areas (MITTRA) is providing all agricultural related help to the family members in such ...
Read in detail
A drought of relief
2016-04-18 07:01:07
Don't harass farmers, expecting a bribe from them," a furious Devendra Fadnavis is telling officials of the agriculture department at a meeting he called on March 28 to review the progress of the farm ponds scheme. "This scheme has to succeed." Mahar...
Read in detail
Maharashtra govt plans permanent shelters for old cows
2016-03-21 07:30:43
The Maharashtra government has decided to set up permanent shelters in 34 districts for old cows that have stopped yielding milk to ensure they are not abandoned. The decision comes a year after its controversial move to ban beef across Maharashtra. ...
Read in detail
NGO moves HC on ryots' plight
2016-03-18 10:50:12
Nagpur: Loknayak Bapuji Aney Smarak Samiti has moved the Nagpur bench of Bombay High Court, alleging discriminatory treatment by Maharashtra government against farmers who had taken loans from banks. The petitioner has prayed for modification in GR ...
Read in detail
64 years on, NGO helps treat leprosy patients
2016-02-29 07:33:21
NAVI MUMBAI: For the last 64 years, a discreet little NGO has been treating and curing leprosy patients totally free of cost. Shantivan Ashram or Kushtarog Nivaran Samiti as it is also known, has been running a programmen for leprosy patients and hav...
Read in detail
Displaying 0 - 17 of 17 result(s)
---