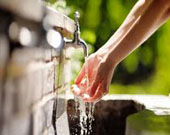 Here is the total 19 news in across different countries, states and cities. Kindly select the category to get the full details. To post news for free Click Here
Showing 0 - 10 of 19 result(s) found.
NLCIL chief bags CSR icon honour for innovation
2018-06-03 22:06:41
Neyveli Lignite Corporation India Limited (NLCIL) has won the Apex India CSR Excellence Award for its outstanding achievement in Corporate Social Responsibility (CSR) at the Apex India Excellence Awards 2017 presentation ceremony held in New Delhi, r...
Read in detail
NGO finds high level of chlorine in Jal Nigam water
2016-06-12 22:32:57
A prominent Dehradun-based NGO, which tested drinking water quality of 60 wards of the city including some VIP areas, has come out with alarming conclusions. The one-month long study found high level of chlorine and some other toxic elements in the w...
Read in detail
NGO pitches for water conservation
2016-06-04 04:29:26
Gurgaon: Women from areas near Sohna met members of two NGOs to learn ways to conserve water, at a time when the city is reeling under a severe water crisis. In the 'mahasabha' at KIIT College, Maruti Kunj Sohna Road, about 350 women from 44 villa...
Read in detail
Displaying 0 - 10 of 19 result(s)
---