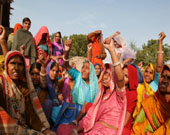 Here is the total 51 news in across different countries, states and cities. Kindly select the category to get the full details. To post news for free Click Here
Showing 0 - 30 of 51 result(s) found.
Girls trafficked from Delhi, Kejriwal urged to act
2016-07-06 11:06:35
An anti-trafficking NGO in Goa has urged Delhi Chief Minister Arvind Kejriwal to act against an organised trafficking network in the national capital involved in trafficking girls and women for commercial sexual exploitation to Goa.In a letter to Kej...
Read in detail
A DIY Pepper Spray For Self Defence
2016-06-27 10:56:29
Straining and bottling half a tablespoon of red chilli powder in water makes for a ready-to- use spray that can be helpful for women to defend themselves against sexual offenders. The do-it-yourself spray was launched in New Delhi recently by a city...
Read in detail
NGO owner, another woman attacked in PGI area
2016-06-14 07:55:38
Amid growing number of incidents of crime against women, two members of the fairer sex were assaulted in the state capital on Monday. Owner of an NGO was attacked at her home, while another woman along with her husband were subjected to violence for ...
Read in detail
Indian woman working with NGO abducted in Kabul
2016-06-10 07:56:33
An Indian woman has been abducted from Taimani area of Kabul and Afghan authorities are trying to secure her release, official sources said on Friday. The woman from Kolkata was working for Aga Khan Foundation, Afghanistan. She was abducted last n...
Read in detail
Marital rape: NGO allowed to join as party to plea
2016-05-24 04:59:11
An NGO claiming to espouse the rights of men has approached the Delhi high court seeking to be heard as a party to an ongoing PIL seeking to criminalise "marital rape ". A division bench of Chief Justice G Rohini and Justice Jayant Nath on Monday per...
Read in detail
An App that Helps Women facing Domestic Violence
2016-05-14 07:32:16
In our country many progressive laws have been enacted to tackle gender-based violence. Data from the National Crime Records Bureau shows that violence against women is as yet increasing. The data suggests that a staggering two-thirds of all women ar...
Read in detail
NGO demands GSCW reshuffle
2016-04-26 06:19:46
Tara Kerkar and other members of the NGO Savera have written to the chief minister Laxmikant Parsekar protesting against the appointment of the same set of members for the Goa state commission for women. Kerkar has given the CM 15 days to reconstitut...
Read in detail
No toilet in groom's house, woman refuses to tie knot
2016-04-18 06:39:30
A woman refused to tie the knot with a man in Kanpur because he failed to get a toilet built at his residence in time for the wedding, agreeing instead to a match with another suitor who had a toilet at home. Facilitated by a local NGO, the match be...
Read in detail
Displaying 0 - 30 of 51 result(s)
---