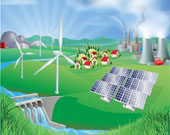 Here is the list of total 6599 NGOs working in New & Renewable Energy in different cities, states and countries.
Showing 0 - 10 of 6599 result(s) found.
AAKRUTHI 6-3-903/A/3 II floor SURYANAGAR COLONY RAJBHAVAN ROAD HYDERABAD 500082
Kishore Ravipati
040-66737672,
D.No.9/65, VidyaNagar Badvel(Po&m), Kadapa-516227
G Sanjeeva Reddy
8019373734, 0863-2212888
At.+P.O.-Baluganj,Bl
Ramdeep Yadav
9939973134, 06186-224232
At + Po: Jogbani Distt: Araria Bihar
Maulana Md Samir Uddin Mozahiri
8092066654, 06455-242620
ANNAPOORNA NIWAS BUS STAND RAJGIR AT+PO- RAJGIR 803116
Sn Sharma Sb Sharma K Paswan Sp Singh
9572231499, 06112-687999
at po-sarvodaya nagar begusarai
Punam Singh
9534837001, 95348-37766
Gati Plot No 434 ( Shiswala Johad) Vill- Mundka, Delhi-110041
Diwan Singh
9212061046, 011-28051911
C/o. Nimesh Desai, 3, Hareram Flats, Nr. Bansidhar Soc., Bhattha, Paldi, Ahmedabad-380007.
Nimesh Desai
9327024605, 079-26620632
7-Navjyot Complex, Near A-One School, Subhashchawk, Memnagar, Ahmedabad
Laljibhai C Mer
9925471856, 079-27416142
PLOT NO 555/ SECTOR 21/C
Pranavendra N Shukla
9810017422, 0129-4164767
Displaying 0 - 10 of 6599 result(s)
There are total 6599 NGOs are working for New & Renewable Energy in different sectors for different services like Virtual Data Rooms,Best Criminal Lawyers, Motor Replacements and Insurance, Personal Injury Lawyers etc. You can donate anything to NGOs in New & Renewable Energy like Donate your Car for Money, Donate A Car in California,Donate Your Car for Kids, Donating Used Cars to Charity etc. Now a days most of NGOs are involed IT services except New & Renewable Energy e.g. Email Bulk Service, Dedicated Hosting, Dedicated Server Hosting, Register Free Domains, Online Stock Trading, Hard drive Data Recovery Services,Home Phone Internet Bundle. NGO open Online Colleges for Online Classes.