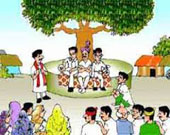 Here is the list of total 11092 NGOs working in Panchayati Raj in different cities, states and countries.
Showing 0 - 10 of 11092 result(s) found.
ABS Globle Institute of Management & Technology, Chadiyar Complex, Behind SBP, Nerchowk, Distt. Mandi H.P. 175001
Rekha Saini
9418467344, 01905-247336
AAKRUTHI 6-3-903/A/3 II floor SURYANAGAR COLONY RAJBHAVAN ROAD HYDERABAD 500082
Kishore Ravipati
040-66737672,
HNO 9120 IInd floor NEAR SAI BABA TEMPLE LALITHANAGAR DILSUKHNAGAR PIN 500060
K Babu Reddy
9849305696, 040-66257257
31-38-293/1, Near Rajeev Nagar, Kurmannapalem Visakhapatnam - 530 046
P Satish Varma
9885293747, 0891-2855090
At + Po: Jogbani Distt: Araria Bihar
Maulana Md Samir Uddin Mozahiri
8092066654, 06455-242620
Vill- Dilawarpur, P.O.- Milkichak, Via- Laxmisagar, Dist.- Darbhanga, Bihar-846009
Rambabu Yadav
9334368553, 0612-2231820
ANNAPOORNA NIWAS BUS STAND RAJGIR AT+PO- RAJGIR 803116
Sn Sharma Sb Sharma K Paswan Sp Singh
9572231499, 06112-687999
at po-sarvodaya nagar begusarai
Punam Singh
9534837001, 95348-37766
vill- dhobahi bazar, p.o.- methurapur, p.s.+ distt.- sheohar, pin- 843329 bihar
Sri Chandra Bhushan
9934428017, 0612-2214041
Gati Plot No 434 ( Shiswala Johad) Vill- Mundka, Delhi-110041
Diwan Singh
9212061046, 011-28051911
Displaying 0 - 10 of 11092 result(s)
There are total 11092 NGOs are working for Panchayati Raj in different sectors for different services like Virtual Data Rooms,Best Criminal Lawyers, Motor Replacements and Insurance, Personal Injury Lawyers etc. You can donate anything to NGOs in Panchayati Raj like Donate your Car for Money, Donate A Car in California,Donate Your Car for Kids, Donating Used Cars to Charity etc. Now a days most of NGOs are involed IT services except Panchayati Raj e.g. Email Bulk Service, Dedicated Hosting, Dedicated Server Hosting, Register Free Domains, Online Stock Trading, Hard drive Data Recovery Services,Home Phone Internet Bundle. NGO open Online Colleges for Online Classes.