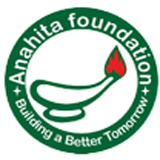 Building a better tomorrow
Established as the not- for- profit organization in the year 2009, Anahita Foundation operates with the single-minded focus of empowering rural India. Our vision is rural empowerment through best practices, modern technology and values.

Our philosophy states that India lives in her villages and we cannot rise to our true potential as a country without a fundamental transformation in the lives of people in rural India. At the Anahita Foundation we believe that the partnership of rural India with corporate, young urban India, the Government and other foundations is the key to create a permanent and irreversible change for good.

Ever since its inception, the foundation has been working to positively impact unserved and underserved communities and contribute towards national and international development goals. The organization works closely with all the stakeholders' in order to bring about sustainable changes in the lives of the underprivileged and last miles communities. To achieve this, the organization implements scalable, sustainable and value-driven initiatives in the thematic areas of food and agriculture, environment and natural resource management, eco-tourism, education and literacy, water and sanitation, children, rural development and poverty alleviation and women empowerment.
80G, 12A, PAN Card
Abhyudaya Yuvajana Sangham

Abhyudaya Yuvajana Sangham, 1-228, Sri Rangaraju Palli, Via HS Mandir-515212, Hindupur, Anantapur Dist. A.P