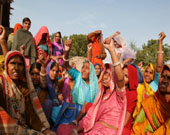 Here is the list of total 20662 NGOs working in Womens Development & Empowerment in different cities, states and countries.
Showing 0 - 10 of 20662 result(s) found.
Garima Samaj Vikas Sansthan A/14 Vyas Nagar Colony, near Ramnagri mode, Ashiana Road Patna-800025
Pragya
9334637510, 06183-285259
baharpota premtirtha rural development society vill+po - baharpota, dist- East Midnapore, pin- 721151
Krishnendu Chakrabarty
9733547451, 03228-251026
331, First Floor, Sant Nagar, East Of Kailash,
Dr. Rajesh Kumar
+91 9871483769, 011-26462177, 26234496
South of Vishhar Mahrani Sthan, Fathapur Road, Sheohar
Dr. Chandra Bhusan
9934428017,
ABS Globle Institute of Management & Technology, Chadiyar Complex, Behind SBP, Nerchowk, Distt. Mandi H.P. 175001
Rekha Saini
9418467344, 01905-247336
at-DUMARIA PO-MOTIA DUMARIA DIST-GODDA PIN-814133
Pravin Kumar Thakur
9162068126, 7870801765
VILLAGE & POST-BUHANA,
Mr. Raj Kumar
9460619542 , 01593-318431
A-15,Chandarpuri, Dholi Pyau
Er. Veer Bhan Singh
9219657210, 0565-6539061
Laheriasarai, Darbhanga-846001
Renu Bharat
9931803970, 06272-253507
Guru Nanak Nagar,Nalas Road
Mrs. Gurmeet Kaur
9988497781, 01762230333
Displaying 0 - 10 of 20662 result(s)
There are total 20662 NGOs are working for Womens Development & Empowerment in different sectors for different services like Virtual Data Rooms,Best Criminal Lawyers, Motor Replacements and Insurance, Personal Injury Lawyers etc. You can donate anything to NGOs in Womens Development & Empowerment like Donate your Car for Money, Donate A Car in California,Donate Your Car for Kids, Donating Used Cars to Charity etc. Now a days most of NGOs are involed IT services except Womens Development & Empowerment e.g. Email Bulk Service, Dedicated Hosting, Dedicated Server Hosting, Register Free Domains, Online Stock Trading, Hard drive Data Recovery Services,Home Phone Internet Bundle. NGO open Online Colleges for Online Classes.